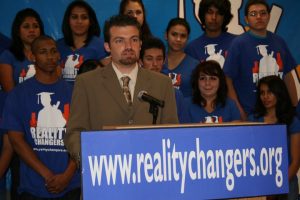 Several of our Board members were familiar with Reality Changers, a group making significant changes in the lives of local at-risk kids. Under the leadership of Chris Yanov, they have given themselves to the gargantuan task of challenging young teenagers from depressed communities to buckle down in their respective schools, to work on their people skills, and to cooperate with tutors to get through rigorous classes and college scholarship applications. The results? Since its inception in 2001, 100% of participants meeting the program's expectations have been accepted to four-year universities, even though less than 3% of adult residents in Reality Changers' locality have a college diploma.
Reality changers has become California's leading college prep tutoring program, helping deserving students secure over $2,000,000 in scholarships. (The students have earned over $10,000,000 in financial aid from all sources.)
Mission Generation knocked our socks off with the power of their presence in Bolivia! They have created curricula to use in public schools (K-12) to cover the basics of a subject and interject, where appropriate, a biblical worldview and the Gospel. Students, parents, and teachers are reacting with great interest. The material is so well done that the Bolivian government has mandated its use in the public schools! For $1 we can buy one textbook for one student.