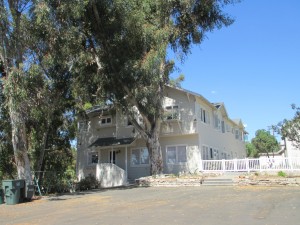 Generate Hope helps trafficked young women discover a future of freedom. GH is the only residential recovery program in San Diego County that also provides an education and training program to empower the formerly trafficked women to grow in confidence and independence. Through long-term housing, education, and rehabilitation, their faith-based program allows trafficking survivors to focus on rebuilding their lives free of anxiety about where they will sleep, what they will eat, or who will hit them next. Human trafficking enslaves people, today, in the 21st century. Young girls are abused, manipulated, and owned, and have no way out. GenerateHope provides a safe way out and a way to a new future . . . of freedom.
Our SEEDS gift went to help renovate an outbuilding with a couple of bedrooms expressly for women who are ready to transition back into the world.
Even though Moms In Prayer International is in our backyard, and many of us have participated in MIPI prayer meetings for our kids, we wanted to get a tour of the international offices. After all, MIPI reaches moms and children in over 140 countries all over the world. Fern Nichols, founder, walked us through the simple headquarters in the Poway auto park. Our SEEDS gift funded the translation or updating of 1000 MIPI booklets into 10 languages, booklets that teach mothers how to pray most effectively for their children and schools.
"Women all over the world are desperate to have access to the MIPI ministry Booklet in their own language. One mom calls it the 'Joy Booklet,' because using it as a guide to give her fears and worries about her children to the Lord with other moms, allows them all to be filled with God's indescribable peace and joy! . . . Twenty years ago, an Egyptian pastor smuggled the booklet into his country, translated it, and wept as he shared that this was the only book that had been written just for the women of his country. (It needs revision after 20 years.) In Tanzania this year the booklets sold out too quickly and left many mothers without. A Ugandan woman shared, 'Our children are safe nowhere. Not at home, not at school, not in the neighborhoods. We are going back with MIP and changing history in our country.'" The MIPI Booklet is teaching a world of mothers to pray.