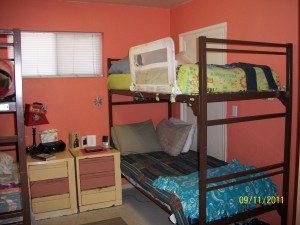 Solutions for Change is an exciting, innovative ministry whose mission is to "solve family homelessness one family, one community, at a time." We were impressed by the long-term commitment  (1,000 days) that is resulting in families breaking cycles of unemployment, poor life choices, and entitlement. We love the 3-stage housing that is provided, the professional counseling, the career and resumé direction, and the obvious respect with which the families coming off the streets are being treated. Pictured here is a converted office that provides intake housing for homeless, Escondido, CA, families. Here they get accustomed to early rising and plenty of KP duty (founder Chris Megison is a former Marine). When they're ready, they are invited to move to the second stage housing in their own 1-bedroom apartment, sharing a kitchen with another family, not far away. After 1,000 days of working, training, finding a job, becoming established and building hope, they move to housing in the community.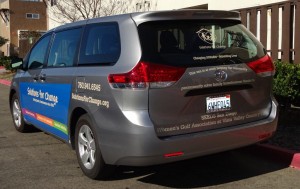 Our SEEDS gift was used for a van to help get children to school, families to church, applicants to job interviews, etc. Look closely and you'll see our name on the back of the lift gate. (Update, May 2018: The van continues to fulfill everyone's expectations. It's in use every single day!)
Global Hope Network used our SEEDS gift to support 12 Community Health Workers serving 4 Kenyan villages. While it's sometimes more tangible to fund vans or buildings, we've learned that often the most helpful and sustainable project we can underwrite is a person who will be trained, who can then train others, who will train others, etc. Global Hope's CHWs are "mamas" in rural villages who have been taught the core principles of holistic health. Because they are "one of their own" they are welcomed by the villagers and able to first identify the needs, then help address the 5 areas of sustainability—water, food, wellness, family income, and education.